Adult, Family & Senior Services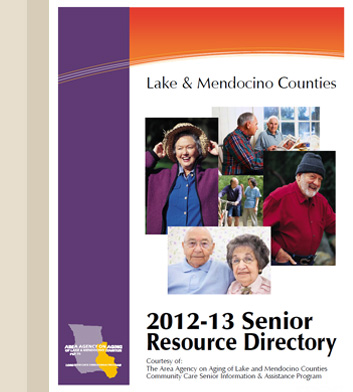 Senior Resource Directory - Online guide to services and assistance in Lake & Mendocino Counties.

Mendocino County Health & Human Services Agency Adult Services Division
Employment & Family Assistance Services - Links to assistance for TANF, Cal Fresh, employment and medical services


Mendocino County Behavioral Health & Recovery Services - Access to Mental Health and Substance Abuse Disorders Treatment


Community Development Commission of Mendocino County - Link to housing assistance


---
Legal & Research Resources
Mendocino County Law Library - Access to legal research tools, self-help, forms, and more.


Mendocino County Historical Society - Access to historical research tools, genealogy information and more.


---
Veterans Services
Mendocino County Veterans Services
California Department of Veterans Affairs
U.S. Department of Veterans Affairs
---
Things to Do

DISCOVER & GO Free & Discounted Tickets to Bay Area & Northern California Museums, etc. All you need is your Mendocino County Library card!!!



Mendo Lake Family Life Magazine - A guide to family activities


Visit Mendocino - A complete visitor's guide to Mendocino County


Visit Ukiah - Things to do and places to stay in Ukiah


101 Things to Do in Mendocino County
Mendocino County Museum
California State Parks of the Mendocino Coast